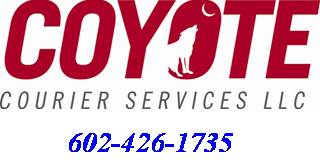 This Page Is Partially Under Construction.
Testimonials will be soon be added to this page. If you would like to help us build our site by adding a testimonial, we welcome you to do so by using our feedback form or contacting Jason@coyotecourier.com
We currently support over 40% of the Title and Mortgage houses in the Phoenix metropolitan area. Companies such as Security Title, Grand Canyon Title, Fidelity National Title, Arizona Title, Ticor Title, Camelback Title, First American Title, American Mortgage, Western Horizon and many others have chosen the Coyote team to support their operations.
In addition to the Title and Mortgage business, we also provide service to Pulte Homes, Cachet Homes, Arizona Kidney Foundation and Triple R Behavioral Health among others in similar fields.
Coyote Courier provides the professional delivery services your business needs. For a complete analysis of your current costs and a side-by-side comparison, please contact our Business Development Department and we will have someone out to meet with you ASAP!