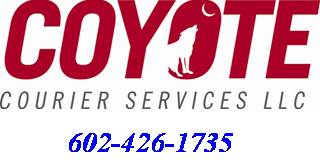 Coyote Courier has been providing unmatched service in the Valley for over seventeen years and is considered to be the premier courier company in the Phoenix Metropolitan Area.
We are unique in that we offer Flat-Rate, valley-wide service supported by a professional, industry knowledgeable, and courteous group of 75 people.
Coyote Courier's distinctive flat rate pricing structure offers easy accountability without the headaches of computing the complex costs associated with ZIP code and/or zone based systems provided by other courier companies.
We realize that every company is different and your needs may differ slightly or dramatically from the norm. Our proven business model allows us to custom-tailor a service/pricing program specifically for your business. We are always happy to evaluate your needs in person and show you why hundreds of Valley companies have chosen Coyote Courier as their exclusive service provider.
In 2016, Coyote Courier delivered over 300,000 packages with an on-time delivery rate of 98.4%. In seventeen years of business our drivers have never lost a single package! Over 1200 Phoenix area businesses have already chosen Coyote Courier as their exclusive service provider.
Can your business afford anything less than the very best?
We see ourselves as an extension of your company, providing you with a dedicated, on demand response team throughout the Phoenix metro area.
Our drivers, dispatchers, and professional customer service staff deliver and track your business documents and packages accurately, efficiently and on-time, helping your business achieve a higher level of success!